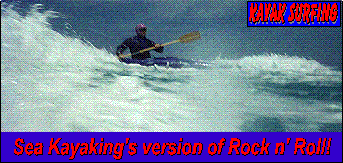 Sea Kayaking seems just a little serene to you??
Well then, just pop on a helmet and lets do some real cruising!
SURFs UP!!
HOME | GADABOUT GADDIS | KAYAK NAVIGATION | FREE KAYAKING IN NEW YORK CITY
KAYAK STORIES | COLD WATER WORKSHOP | OUTSIDE LINKS | STOP SMOKING NOW
FREE HYPNOSIS PRACTICE GROUPS | HYPNOSIS, HYPNOTHERAPY, SELF HELP DIRECTORY
THE HYPNOSIS CENTER LLC | SELF HELP TESTIMONIALS
FRIENDS OF OURS !!
STOP ALCOHOL WITH NYC HYPNOSIS | SPIRIT POSSESSION | HYPNOSIS NYC CERTIFICATION TRAINING |
BANGKOK AND THAILAND TRIPS | STOP SMOKING WITH NYC HYPNOSIS | GREENWICH VILLAGE RESIDENTS - NEW YORK |
HYPNOSIS MARKETING NEWS | HYPNOSIS NEW YORK | HYPNOSIS NYC | HYPNOSIS STAGE NY |
HYPNOTIST NEW YORK NOTEBOOK | THE MAD RUSSIAN | MAD RUSSIAN HYPNOSIS | SILVA MIND CONTROL GRADUATES
QUIT SMOKING HYPNOSIS NYC | LOSE WEIGHT HYPNOTHERAPY NEW YORK | HYPNOSIS CDS | HYPNOSIS BOOKS
NEW YORK HYPNOSIS MARKETING NEWS | HYPNOSIS NYC CERTIFICATIONS