Sea Kayaking Camping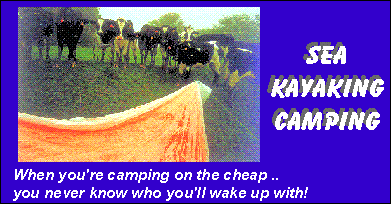 Coastal Etiquette by Kimmer Ball
TRIP 3 to HELL - Removed - too scarey
TRIP 4 beyond Hell - Removed - scares barnyard animal
TRIP 6
TRIP 8
TRIP 10
TRIP 11


Return to Home Page!
Copyright © 1996
'A Salty Dog Production!

A CLUB TO GET THE MIND READY FOR THE SPORT
HOME | GADABOUT GADDIS | KAYAK NAVIGATION | FREE KAYAKING IN NEW YORK CITY
KAYAK STORIES | COLD WATER WORKSHOP | OUTSIDE LINKS | STOP SMOKING NOW
FREE HYPNOSIS PRACTICE GROUPS | HYPNOSIS, HYPNOTHERAPY, SELF HELP DIRECTORY
THE HYPNOSIS CENTER LLC | SELF HELP TESTIMONIALS


FRIENDS OF OURS !!
New York Hypnosis FRIENDS OF OURS !!
STOP ALCOHOL WITH NEW YORK HYPNOSIS | SPIRIT POSSESSION | HYPNOSIS NEW YORK CERTIFICATION TRAINING |
BANGKOK AND THAILAND TRIPS | STOP SMOKING WITH NEW YORK HYPNOSIS | GREENWICH VILLAGE RESIDENTS - NEW YORK |
NEW YORK HYPNOSIS MARKETING NEWS | HYPNOSIS NEW YORK | HYPNOSIS NYC | HYPNOSIS STAGE NY |
HYPNOTIST NYC NOTEBOOK | THE MAD RUSSIAN | MAD RUSSIAN HYPNOSIS |NEW YORK SILVA MIND CONTROL GRADUATES
QUIT SMOKING HYPNOSIS NYC | LOSE WEIGHT HYPNOTHERAPY NEW YORK | NEW YORK HYPNOSIS CDS | HYPNOSIS BOOKS
NEW YORK HYPNOSIS MARKETING NEWS | NEW YORK HYPNOSIS CERTIFICATIONS | NYC HYPNOSIS MARKETING